Join us at Mrs. Dalloway's Bookstore on Saturday, October 14th at 4:30 PM when acclaimed children's book author Madeleine Dunphy comes to read her two children's picture books The Peregrine's Journey and The Turtle Dove's Journey. Madeleine will sign copies of her books after the reading.
Madeleine will be joined in conversation by Mary Malec, Cal Falcons Raptor Expert, to learn more about the peregrine falcons nesting on the Campanile, a mile from the bookstore!
The Peregrine's Journey vividly describes one of the most remarkable feats in the animal kingdom. Beginning in Alaska and ending two months later in Argentina, the peregrine falcon's annual migration is an 8,000-mile flight across the Americas. This beautifully illustrated book allows young readers to follow one bird on its journey. Based on the actual migration of a real bird that was tracked by the U.S. Fish and Wildlife Service, the book is filled with amazing facts about the bird's diet, habits, and navigational abilities, as well as stunning views of the many habitats the peregrine visits along the way.
The Turtle Dove's Journey follows a turtle dove on his 4,000 mile migration from England to Mali, Africa. Starting in the prim hedges of Suffolk, England, instinct drives the dove high into the night skies for a 4,000 mile trip to the savannahs of Mali, in West Africa. Along the way there are lonely, moonlit flights above the sea, a cozy hideout in the bushes of Bordeaux, France, a meeting of the birds at Gibraltar, the fountains of Casablanca, winds flowing "like a river" down canyons of the Atlas Mountains, and a Sahara sandstorm churning below. With carefully researched prose and luminous paintings, this book is perfect for anyone who has ever wondered about the mysterious journeys of Earth's feathered creatures.
MADELEINE DUNPHY has studied and visited many of the world's ecosystems, and was inspired to write books about our world's great diversity of life. Her books have been published by Hyperion Books for Children, Millbrook Press, and her own publishing company, Web of Life Children's Books—a publishing company devoted to publishing picture books about the environment. Madeleine is also a teacher, activist and mother. She lives in Oakland, California.
MARY MALEC saw her first peregrine on a bridge during those last few years before there were no East Coast peregrines left. It would be 50 years before she saw a second peregrine. In the intervening years biologists used captive breeding and hacking and cross-fostering, combining science and falconry to help the peregrine recovery process. She has been monitoring nest sites and participating in urban fledgewatch for over 15 years, learning about this crazy and magnificent species
THIS EVENT is free but pre-registration is requested. Registration ends at 3:30 pm on October 14th.
BECAUSE SEATING is limited, please register only if you plan to attend.
DUE TO SPACE limitations, we may not be able to accommodate every person at an event, so early registration is encouraged.
WALK-INS will be accommodated only if space allows.
WE ASK that attendees arrive between 4:15 – 4:30 PM for the event.
PLEASE leave your non-support companion animals at home.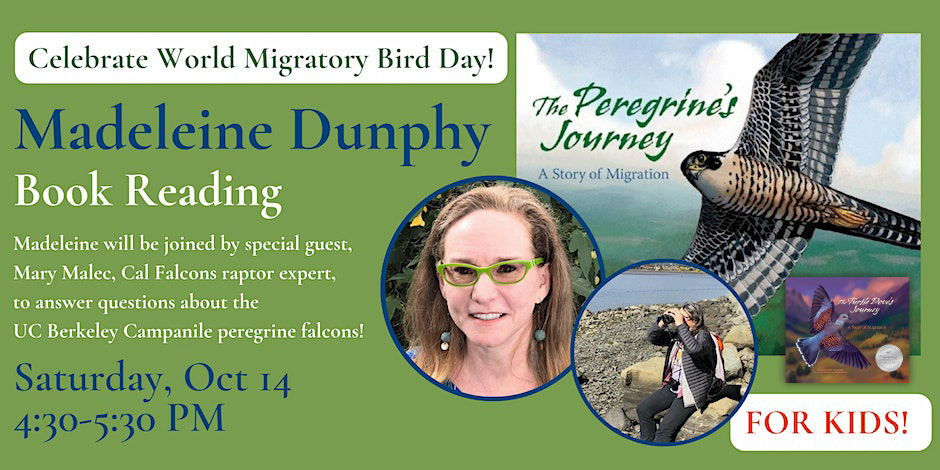 REGISTER HERE: https://bit.ly/falconstorytime
https://www.eventbrite.com/e/celebrate-world-migratory-bird-day-wauthor-madeleine-dunphys-book-reading-tickets-710639922137